IC1396 in [SII], Ha and [OIII] Light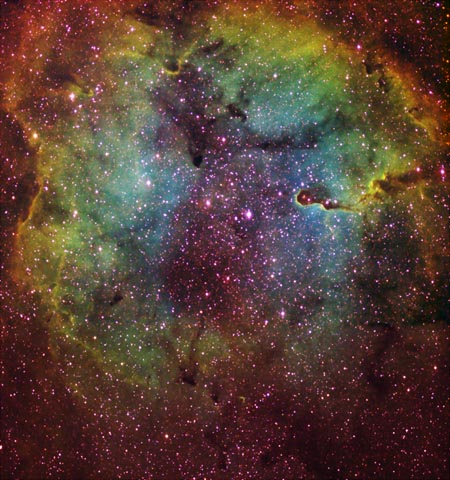 Click on image to enlarge, click here for highest resolution
[SII] =Red, Ha = Green, [OIII] = Blue ("Hubble Palette")
Buy this and other photos here
Selected as NASA's "Astronomy Picture of the Day" for August 5, 2004
For detailed shots of the "Elephant Trunk" (vdB142) region (center right), see these two recent images:
Taken on June 12, 2004 from Fremont Peak State Park near San Juan Bautista, California
Takahashi FCT-76 imaging scope with Takahashi Focal reducer, f/4.5, F=342mm. This is the telescope that was used by Jay McNeil to discover his now-famous McNeil's Nebula back in January of 2004. I purchased the telescope from Jay in April of 2004.
SBIG ST10XME imaging camera at -26C
Astro-Physics 80/900mm guidescope with adjustable rings
SBIG ST7E guide camera at -15C
Astro-Physics AP900GTO mount
FLI DF2 Digital Focuser
FLI CFW1 Color Filter Wheel
Custom Scientific AR-Coated narrowband emission line filters (50mm unmounted)
[SII] 673.4nm CWL, 3nm FWHM
Ha 656.4nm CWL, 3nm FWHM
[OIII] 500.7nm CWL, 3nm FWHM
Exposure details: two aiming sites (2 x 1 mosaic)
five exposures of 10 minutes through Ha filter
three exposures of 10 minutes through [OIII] and [SII] filter
Total exposure time = 3 hours 40 minutes